(Updated with 2022's set)
Believe it or not, some info is still difficult to find online. Whenever I get to the end of a thorny research question, no matter how trivial, I like to share what I've found back with the rest of the web.
Dave Perillo is one of my favorite artists right now. I collect prints/posters/whatever I'm supposed to call them. Dave did a series of posters based on Disney attractions and rides that I think capture a ton of the magic of those experiences. He's got a semi-vintage style that I'm into, and I like that most of them include somebody on the ride itself. They encapsulate the experience of riding in a slightly abstract way, and aren't just a well-posed picture of the attraction itself.
There's too many of them for me to justify owning, but then I discovered 5″x7″ postcard versions! Now that's achievable. But it was frustratingly hard to find a complete list of which posters exist. After extensive googling and browsing ExpressoBeans, here's what I think is a complete list of all 28 prints, with release dates when I could verify them. I believe they were all released in sets of 4:
---
2015
---
Date Unknown
Dumbo
Peter Pan's Flight
Pirates of the Caribbean
Mr. Toad's Wild Ride
---
Date Unknown
Splash Mountain
Snow White's Scary Adventures
Enchanted Tiki Room
Mad Tea Party (teacups)
---
2019
20,000 Leagues Under the Sea (2019)
Carousel of Progress (2019)
Peoplemover (2019)
Journey into Imagination (2019)
---
2020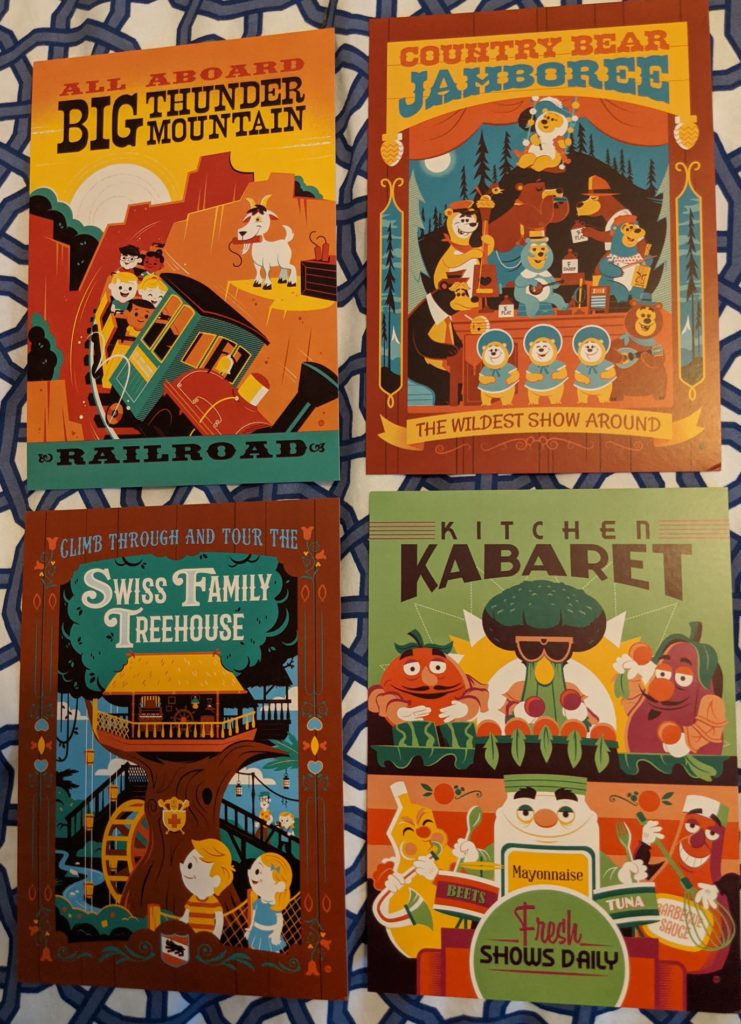 Big Thunder Mountain (2020)
Country Bear Jamboree (2020)
Swiss Family Treehouse (2020)
Kitchen Kabaret (2020)
---
2021 (no picture available)
Star Tours
It's a Small World
Tomorrowland Speedway
Horizons
---
2022
Tower of Terror
Sunshine Tree Terrace / Orange Bird
Spaceship Earth
Maelstrom
---
Here's my collection as of 2019! The bottom four are even signed.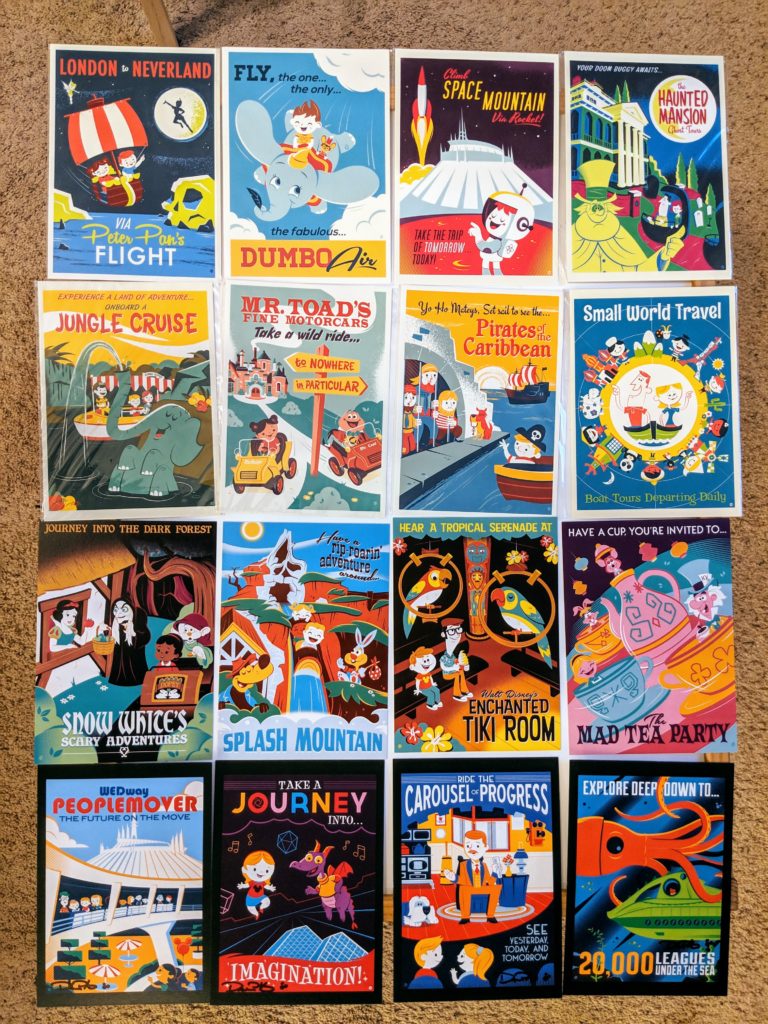 I'm disappointed that Disney chose to change the borders on the cards so many times, but I still love having a complete set. Now to consider framing options.