(Updated with 2023's set and a couple new pictures)
Believe it or not, some info is still difficult to find online. Whenever I get to the end of a thorny research question, no matter how trivial, I like to share what I've found back with the rest of the web.
Dave Perillo is one of my favorite artists right now. I collect prints/posters/whatever I'm supposed to call them. Dave did a series of posters based on Disney attractions and rides that capture a ton of the magic of those experiences. He's got a semi-vintage style that I'm into, and I like that most of them include somebody on the ride itself. They encapsulate the experience of riding in a slightly abstract way, and aren't just a well-posed picture of the attraction itself.
There's too many of them for me to justify owning, but then I discovered 5″x7″ postcard versions! Now that's achievable. But it was frustratingly hard to find a complete list of which posters exist. After extensive googling and browsing ExpressoBeans, here's what I think is a complete list of all 35 prints, with release dates when I could verify them. I believe they were mostly released in sets of 4:
---
2015
---
Date Unknown
Dumbo
Peter Pan's Flight
Pirates of the Caribbean
Mr. Toad's Wild Ride
---
Date Unknown
Splash Mountain
Snow White's Scary Adventures
Enchanted Tiki Room
Mad Tea Party (teacups)
---
2019
20,000 Leagues Under the Sea (2019)
Carousel of Progress (2019)
Peoplemover (2019)
Journey into Imagination (2019)
---
2020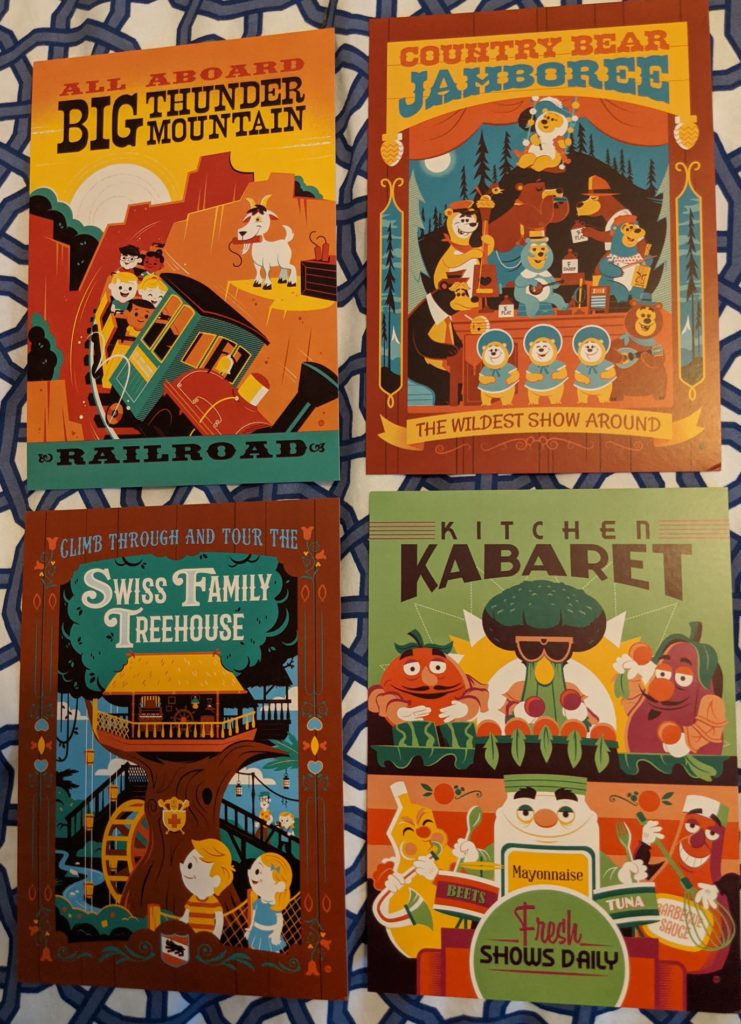 Big Thunder Mountain (2020)
Country Bear Jamboree (2020)
Swiss Family Treehouse (2020)
Kitchen Kabaret (2020)
---
2021
Star Tours
It's a Small World
Tomorrowland Speedway
Horizons
---
2022
Tower of Terror
Sunshine Tree Terrace / Orange Bird
Spaceship Earth
Maelstrom
For the first time, Disney released two of Dave's attraction postcards outside of Epcot's Festival of the Arts. In late 2022 they released:

Walt Disney World (ok not technically a single attraction, but I count it)
Muppet Vision 3D
---
2023
Gran Fiesta Tour
Space Mountain
Sonny Eclipse
Expedition Everest
---
????

I haven't been able to confirm when the Matterhorn print or postcard was released.
Here's my collection as of 2023!

I'm disappointed that Disney chose to change the borders on the cards so many times, but I still love having a complete set.