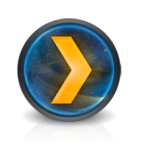 I'm trying to regather some posting momentum with a series of short reviews about stuff I like.  Look for one every couple of days.  I'm not paid for any of this, I just like reviewing things.
Using Plex Media Server to manage my movies makes me very happy. Â It capably serves up video files to every TV in my house, and is a rare product that just works. Â I recently took every DVD I own and copied them to a hard drive. Â Plex sits on that computer and automatically organizes those files with correct metadata and thumbnail images (be still my librarian heart).
So that's great, but how do they get to the TV? Â Plex has straightforward apps for just about any platform you can think of. Â Every TV in my house has either a Roku or an Android device (see previous review of the iMito MX1) attached, so those devices function as a front end to the server.
As an added bonus I boxed up the DVDs, put them in the closet, and reclaimed a ton of living room space.
Plex is completely free, though I gladly paid for a lifetime plexpass membership (which includes early access to new features) to support future development.